On Friday 27 November 2015, the Alpes-Maritimes département will become the new official co-candidate for the Mediterranean Alps' UNESCO candidature led by the European Grouping for Territorial Cooperation (EGTC).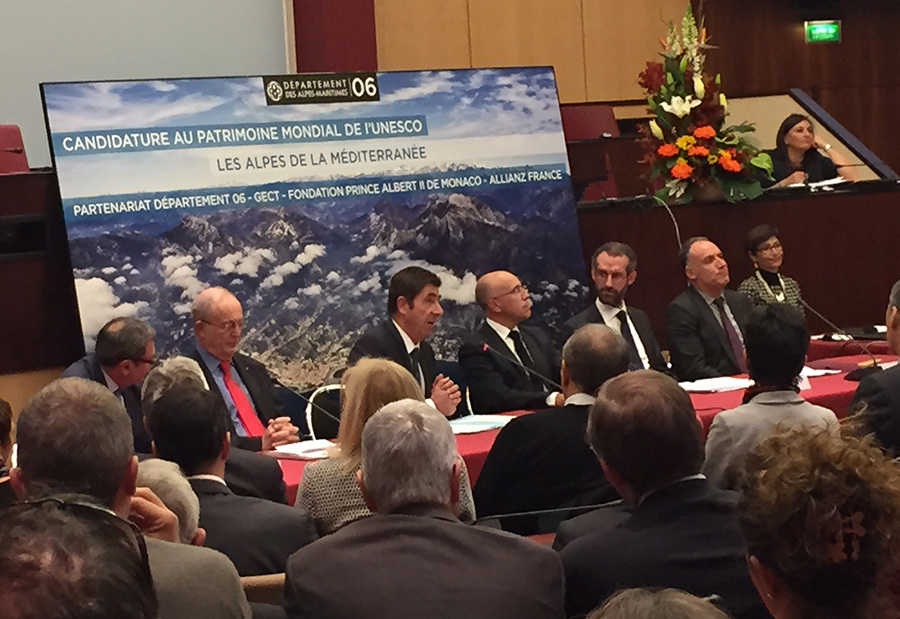 Jusqu'alors, le GECT incluait dans la candidature UNESCO le Parc national du Mercantour côté français, et le Parco naturale Alpi Marittime, le Parco naturale del Marguareis, le Parco delle Alpi Liguri, les aires Natura 2000 gérées par la Provincia di Imperia et l'Area protteta naturale giardino Hanbury, côté italien. Côté français, la candidature transfrontalière au patrimoine mondial de l'UNESCO a étendu son territoire jusqu'à la mer.
21 communes supplémentaires sont ainsi associées au Département pour ce qui concerne le territoire proposé à l'inscription au Patrimoine mondial et sa zone tampon.
Ce même jour, plusieurs partenaires financiers et mécènes du projet, tels que la Fondation Albert II de Monaco ou le groupe Allianz signeront aussi une convention avec le GECT pour officialiser leur partenariat.